HARRIS CHAPEL UMYF NEWSLETTER
May 2001

Issue 2

Inside this Issue

1

2

3

4

5
Friendship
6
Christian Humor

7

8
Change Happens

9

Coming Next Issue:

More Devotionals

More Bible Trivia

Tips for Witnessing

Y

ou know that sharing Christ with your friends is important. But it can also be pretty scary. What do you say? What will they think? These three students want to pass along a few things they've learned about sharing the Good News.




Know the Message
"Ezra had devoted himself to the study and observance of the Law of the Lord and to teaching its decrees and laws in Israel." (Ezra 7:10)

A few years ago, I had some friends who weren't Christians, but I had no idea how to witness to them. Those friends were really lost. They were caught up in swearing, sex, drugs and whatever else they could find to fill the emptiness of not having Jesus in their lives. If I had known the Bible better a few years ago, I could have tried to help them know Jesus.

When the book of Ezra was written, the Israelites were coming back from Babylon after living as captives. Their children no longer knew God's law. Ezra felt called to help get Israel back on track, but instead of just teaching others about God's law, he spent time studying it himself. He made sure he understood it before trying to tell others about it.

We can all learn a lot from Ezra's example. It's really important that we take time to study God's Word and know it. Then we can be

better witnesses to our friends. —Tim

What About You?

1) If someone asked you a tough question about the Bible, would you know how to find the answer?

2) Think of some questions non-Christians might have about God. Then search your Bible and talk with your parents or youth pastor to find some answers.

3) Ask God to help you live out the things you learn as you read your Bible.




Live the Life
"By this all men will know that you are my disciples, if you love one another." (John 13:35)

One of my friends wasn't a

Christian, but she knew I was. Without my knowing it, she was watching me to see what this whole Christianity thing was all about. One day, she told me she'd been paying attention to the way I treated people. She said one of my best traits was that I ever hated anyone, or at least never acted like I did.

From that day on, she began to talk to me more about my faith. She was hesitant to become a Christian, but eventually, she gave her life to the Lord!

I feel fortunate that God used me as an example of the love Christians have for other people. Whenever we show our love to our friends and family, we show people that our relationship with Christ is based on love. And there's not a person in the world who doesn't need love.

God tells us to love others so that they'll see his love in us. When we show God's love to people, powerful things can happen. Just ask my friend! —Mindy

What About You?

1) What are some of the ways other Christians have shown you God's love?

2) Think of a person at your school who could use a dose of God's love. What can you do to show love to this person?

3) Ask God to help you love others.




Find a Role Model
"You became imitators of us and of the Lord…. And so you became a model to all the believers…." (1 Thessalonians 1:6-7)

There's a guy in my youth group who is a strong Christian. Lots of people, including me, really look up to him. Whenever I see him do something that shows his love for God, I think, That's so cool! I want to be like that. I've learned a lot from him.

It's great to have a role model, someone who shows you how to live out your faith. That's what my friend does for me, so now I'm trying to do the same thing for other people. I really try to show how important my faith is by how I live and what I say. Now I have the courage to talk to my best friend about God, because I want her to see that my faith really means something. She's not a Christian yet, but I hope she will be soon!

God wants everyone to know him. So if you can be a role model to someone else, do it. And if you need a role model to help your faith grow, find one. Having someone to look up to made a big difference for me. —Rebecca

What About You?

1) Who are some of your spiritual role models? What can you learn from them?

2) Find someone in your family, your church, or your school whose faith you really admire. Ask that person to help you grow in your faith.

3) Ask God to help you find a great Christian role model.

Truth to Share

Other passages to read and study:

Romans 3:23
we've all sinned

Isaiah 64:6
no one is good enough

Romans 6:23
sin separates us from God

Romans 5:6-8
God made a way

Romans 10:9-13
confess and repent

1 John 1:9
God will forgive

2 Corinthians 5:17
he makes you new

Romans 8:38-39
we can't lose his love

Try This!


Write about each passage in a journal or notebook. Here are some ideas to help you get started:

1) What does this passage tell you about salvation?

2) Put this passage into your own words. How does it relate to your own salvation experience?

3) Ask God to enable you to understand what it means to be a

Christian and pray for opportunities to share that with others.

4) Do you have questions about what you've read? Write those down. Then ask a Christian friend or youth leader how they would answer your questions. Take note of their answers in your journal or notebook.

5) Using the devotions in "Faith Builders" as models, write your own devotion based on the passage.

"This article first appeared in the January/February 2001 issue of Campus Life. Used by permission of Christianity Today International, Carol Stream, IL
---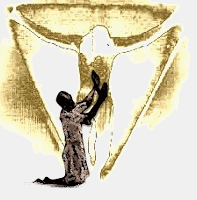 Sunday School
I would like to take this time to invite each and every one of you to attend our Sunday school class. If you haven't been lately, we have decorated the room nicely. Come by and check it out. There is no better way to have fun and learn about Jesus in a non-threatening environment than by coming to Sunday school. Come and join us and share in the fun and learning. We meet every Sunday upstairs in the Family Activity Center at 10:00 a.m.
---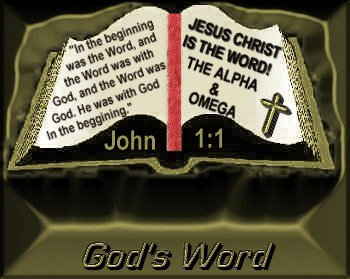 Bible Trivia
In each newsletter, I will insert 10 bible trivia questions. These will help strengthen your bible knowledge. The book where the answers can be found are in parenthesis after the question. Try and answer them before looking them up. Keep score and let me know how you do. These questions will come from both the Old and New Testaments. Here are the questions for this issue.
1. Who was Joshua's father? (Joshua 1:1)
a) Zaccur
b) Jephunneh
c) Nun
d) Raphu
2. In which month of the Hebrew year was the Passover held? (Exodus 12:2)
a) 1st
b) 3rd
c) 7th
d) 12th
3. Which prophet predicted that the Messiah would be born in Bethlehem? (Micah 5:2)
a) Jonah
b) Hosea
c) Daniel
d) Micah
4. What happened at the house of Simon the Pharissee? (Luke 7:38)
a) Jesus ate Passover
b) Woman poured perfume on Jesus
c) Jesus was an honored guest
d) Simon became a believer
5. What did the demon-possessed man from Gerasenes say his name was? (Mark 5:9)
a) Millenium
b) Falcon
c) George
d) Legion
6. Three pairs of Jesus' disciples had the same name. Which name is not repeated? (Luke 6:12)
a) Simon
b) James
c) Judas
d) John
7. Where did Paul go after he was let down the wall in a basket from Damascus? (Acts 9:19-26)
a) Rome
b) Tarsas
c) Troas
d) Jerusalem
8. Where was Aeneas healed? (Acts 9:32-34)
a) Cyprus
b) Lydda
c) Joppa
d) Antioch
9. The Ark of Noah came to rest where? (Genesis 8:4)
a) Nebo
b) Ararat
c) Pisgah
d) Carchemish
10. Which of the following is not a book found in the Old Testament?
a) Ezrah
b) Jedidiah
c) Lamentations
d) Esther
---
We won't be having UMYF on Memorial Day weekend. We will meet on Saturday, June 2nd to finalize rehearsal for the Children's Day service
Youth Out-of-School cookout party at the Day's home on June 10th. This year we would like to invite the parents of the youth, and our pastors. All food and drinks will be provided by Darrell & Joanie.
We will be accepting applications and fees for the Summer Sizzler youth retreat during the month of June.
Calling All Youth!!
If you are 7th through 12th grade and are not attending youth on Sunday afternoons, we would love to have you join us. Please consider making this a part of your Sunday afternoon.
If you are an adult and would like to have a blessing of a lifetime, come visit our youth meetings. We would love to have you.
---
THE PRICE OF FRIENDSHIP
If you want to know something about me without asking any questions, study my friends. The people with whom I choose to spend my free time, with which I eat and laugh and cry - those people are the mirrors of my soul. It's true: you really can tell a lot about a person by the company he keeps...
Now, if you choose friends the way I choose friends, there is no pattern or logic to it. I have friends who are extremely wealthy, and friends who are desperately short on cash. I have friends who do not vote for the political candidates I prefer, and friends who can finish my sentences if I pause to take a breath.
FRIENDSHIPS ARE MADE, NOT BORN
We are all born into a family, but we grow into friendships. Members of your family may be your best friends.
Sometimes we lose touch with friends. We move away. Our lives take unexpected turns. Yet there is one friendship upon which every one of us may depend. It is a friendship available to all who will call upon the name of the Ultimate Friend.
THE ULTIMATE FRIEND
That friendship is with Jesus, and the formula for that relationship is described in warm words in John 15:12-17. It's a friendship based on the greatest love of all.
More Friendship Scriptures:
Proverbs 17:9
Proverbs 18:24
Proverbs 27:5
Proverbs 27:17
Jeremiah 33:2-3
Ecclesiastes 4:10
1 Corinthians 13:4-7
James 4:4
---
The Bible in


30 Seconds

God made.


Adam bit.
Noah arked.
Abraham split.
Joseph ruled.
Jacob fooled.
Bush talked.
Moses balked.
Pharaoh plagued.
People walked.
Sea divided.
Tablets guided.
Promise landed.
Saul freaked.
David peeked.
Prophets warned.
Jesus born.
God walked.
Love talked.
Anger crucified.
Hope died.
Love rose.
Spirit flamed.
Word spread.
God remained!

--Author unknown.
---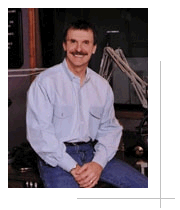 Dawson McAllister is the host of the national live radio call-in-show, Dawson McAllister Live! syndicated on 250 radio stations nationwide, with a listening audience of 500,000 every week. You can listen to Dawson on WAY-FM 88.7 on Sunday evenings from 7 to 9 p.m. Over the past 30 years, Dawson has taught more than 2 million teenagers in-depth Biblical truths and each year he speaks to hundreds of thousands of teenagers through rallies, conferences and crusades across America. His web address is

www.dmlive.com. Dawson has an online prayer room with Prayer Room Chaplains waiting to pray with you. You can also sign up to be an email prayer partner with thousands of other Christians. Lastly, you can also sign up for Dawson's free Student Daily Bible Studies. You can do all of this online at his web page.
---
"I can stand what I know. It's what I don't know that frightens me." -- Frances Newton



Change may put fear in many people's hearts because they are afraid of what may happen. Sometimes nothing seems to be certain. However, many things are certain in life, and change doesn't have to make you cringe. In life, we go through many trials and tribulations. We may move from one house to another. We lose friends and gain others. We graduate and switch schools. Things in our life will become different over time as we grow and learn. The most important thing in these situations is to remember God is there for us always. With God anything is possible, and we must remember that as we adjust to new experiences in our lives. Here are some key points to remember that will help you during these times.

1. God is always there for us.

Just as the character Batman has a direct line to the Commissioner in the form of a red phone, we too have a direct line to God in the form of prayer. Prayer brings us closer to God and reminds us that He has great things planned for our lives.



2. Make a list of goals and also fun things you'd like to do.

Here are some examples:

Goals: read the Bible every day, have an article printed in a local newspaper, graduate from high school with an A in your worst subject (for me that's math).

Fun: call or write a friend you haven't talked to in a long time, do volunteer work, teach Mom to roller blade, read a book you've wanted to read for a long time but never got around to.



3. Start a journal.

Sometimes it's hard to say what we feel. It may help to write it down on paper. Journals can include just about anything you want them to. Favorite song lyrics, prayers, your daily routine, lists of your goals, and how you are feeling at the time. It would be your journal, and it would be unique to yourself. Later you could go back to it and see how you felt, or what you were thinking at that time.

Most importantly, remember to trust God's will. Sometimes it's hard to do that, no matter how faithful we are. It is said that fear cannot exist where there is faith. Have faith in what God has planned for you. He will lead you in the right direction, and will make His will be known. He will always find a way to show you the right path, so have faith in what He can and will do for you.
---

Rated PG-13 for adventure action and violence

Reviewed by: Kenneth R. Morefield
VOLUNTEER GUEST REVIEWER

FILM CREDITS
Starring: Brendan Fraser, Rachel Weisz, The Rock, John Hannah, Arnold Vosloo | Directed by: Stephen Sommers | Produced by: James Jacks, Sean Daniels | Written by: Stephen Sommers | Distributor: Universal Pictures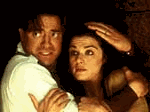 E

xplorers Rick and Evie O'Connell (Brendan Fraser, Rachel Weisz) discover an ancient bracelet which may resurrect the Scorpion King (played by The Rock), an Egyptian warrior who sold his soul to Annubis in return for immortality and the ability to control an army of humanoid animal demons. Imhotep, a resurrected Egyptian mummy (Arnold Vosloo) and his followers kidnap the O'Connell's son in hopes that they can find the resting place of the Scorpion King in time to kill him and take control.

Although this film is rated PG-13, the editing and intensity level is extremely high. One difficulty in adequately rating films for content is the inability to take context into consideration. On a literal level, what you actually "see" in close up is often tame, with the camera cutting away a "kill shot" or framing it in such a way that we lack the graphic detail. That having been said, what is implied or shown indirectly is a large amount of particularly violent killing (shotgun blasts to the head, degeneration of skin, live dismemberment, beheading, etc.).

* Warning: Plot Spoiler Follows *
Certainly from an ideological standpoint, any movie that has as one of its central scenes a boy resurrecting his mother from the dead by reading from an Egyptian book is going to leave some Christian viewers turned off. The underlying theology of the film is very confused, with new gods and powers invented to advance the needs of the plot in a haphazard manner. At times it is clearly polytheistic, presenting the Egyptian gods as real and the Judeo-Christian god as absent or unimportant. But at other times the movie shows an inability to think through the implications of the world it created and falls back to Western Christian rhetoric. "God help us," a magi warrior says when looking at a swarming horde of demon warriors bearing down on his troop of protectors of the innocent, and it seems clear enough that he is making reference to some omnipotent higher power that is not on the same level as Annubis or others who empower the Egyptian zombies. Imhotep wishes to kill the Scorpion King who derives his powers from Annubis, because the power to lead the demon army automatically passes to whoever kills him. This seems to imply that Imhotep is not a follower of Annubis, but at a key moment Imhotep's supernatural powers are taken away by Annubis whom Imhotep says wishes him to "fight as a mortal."

As mentioned earlier, the O'Connell's son, Freddie, raises mom from the dead by reading from the same book that raised Imhotep physically and recalled the spirit of his betrothed from "the underworld." Yet after Evie is brought back, she asks if anyone wants to know what "heaven looks like," implying the book has powers over souls both in the Egyptian underworld and the Christian "heaven."

Later, Imhotep and Rick will be balanced over a precipice with members of the underworld trying to pull them in--why they would both go to the same place when they die, or why Rick would be pulled into the underworld but Evie would go to "heaven" is never fully explored. None of this is intentionally heretical or even thought out. And I say it not because being unchristian in its worldview makes it a bad movie, but because being inconsistent in the world it recreates (Christian or non-Christian) is an element of an inferior fantasy world.

These religious implications, however, are not what ultimately hurt the film as an entertainment vehicle. The larger problem here is we have a huge case of sequel-itis. Everything has to be bigger, louder, and longer. Much like last year's MI-2, the film seems to be designed around a series of set pieces--special effects or action scenes which are designed to dazzle viewers and look impressive in trailers. When is Hollywood going to catch on to the fact that one or two money shots in the context of an intelligent and engaging story (think The Matrix or Titanic) are generally more effective than a series of money shots run together (Gone in 60 Seconds) or a dull build up to a set piece so spectacular it dwarfs the humanity and hence the emotion (The Perfect Storm)?

The Mummy was a modest hit because, lacking the big budget, it had to be judicious with its effects; the face in the sand was memorable because it stood out. In The Mummy Returns we get a replay of the memorable effects (Imhotep transforming from degenerated corpse to human, Imhotep's face forming elementally in the water) but they are not the cherry on the sundae, they are a couple of cherries in a bowl of cherries--which is a very different culinary experience.

Overall what The Mummy Returns is lacking is any sense of camp or creepiness. With the arrival of a big budget comes the need to be an action movie, not an adventure movie. Mummy movies work best when they are about mood, not bullets and battles.

As an action flick The Mummy Returns manages to avoid the excessive profanity, nudity and gore that will mark some summer movies. As such it has less offensive stuff in it than some other viewing options. It just doesn't have a lot in it to recommend it in its own right.

"Just as man is destined to die once, and after that to face judgment, so Christ was sacrificed once to take away the sins of many people, and he will appear a second time, not to bear sin, but to bring salvation to those who are waiting for him" (Hebrews 9:27-28).

My Grade: C

Year of Release -- 2001

Basically if you liked the original you'll go absolutely bonkers over this sequel; the special effects were a little weak in all honesty and the plot is paper thin, but when I paid my $8 at the door, I was expecting a roller coaster ride of thrills and comedy, and I got just that. Content wise there's much to be offended by here; there's references to reincarnation and all sorts of ancient Egyptian religion, but it's not meant to be taken seriously and is sometimes almost played for laughs. In a similar fashion, there are bus-loads of violence and some nasty scares, but surprisingly it's all very cartoonish in nature. If you want about 2 hours of nonstop gunfights, fistfights, chases and about two billion people fighting in the biggest battle I've seen in any film ever, you're money won't be wasted. My Ratings: [Very Offensive / 4]
--Ben Berntsen, age 17
I loved this movie. The only thing I did not like in it was the occultic themes and some mild nudity. The violence was Indiana Jones style and didn't really bother me though it may bother other people. The movie portrays a loving tight knit family, it does not have alot of cursing, I counted 8, it doesn't have any sex. As for the occultic themes, it is a mummy movie, what do you expect? Not that I liked the occultic themes but if you can separate fiction from truth, it is a great, fun movie to watch. My Ratings: [Average / 5]
--Abigail Guerrero, age 17